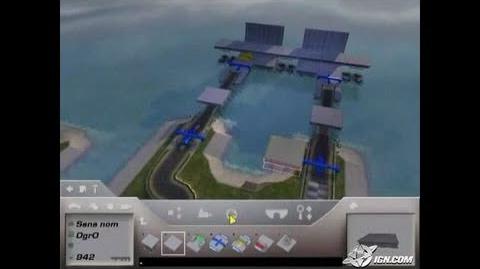 Not to be confused with Sunrise, a mood in the TrackMania series.
TrackMania Sunrise (commonly abbreviated TMS) is the second major release in the TrackMania series. Compared to the original TrackMania, this game has more realistic graphics.
Gameplay
Sunrise has gameplay similar to that of TrackMania its predecessor. It features the track editor in which you can create your own tracks, but this time, it is more mouse-driven as opposed to the keyboard-driven original and it features Mediatracker, which makes special effects like displaying text and changing the camera possible.
Sunrise features the track editor that previous TrackMania games had, but it has three new environments: Island, Coast and Bay, again, each with its unique car to fit the environment's characteristics. It features the Race and Puzzle modes that previous games had, as well as two new modes, which are Platform and Crazy. Another new feature is "moods," which allows players to change the lighting and appearance of the sky to make the track look like it takes place during a different time of the day.
In most TrackMania games, each track is given a name based on which series of tracks it is in and where it is in that series. For example, the second track in the F series in Race mode would be called "RaceF2." However, in Sunrise, all the tracks each have their own individual names, making it the only game in the series to have this.
The game was built on an overhauled engine for better graphics, visuals, and internet connectivity with a peer-to-peer system.. Players can also share and import new car models and skins and customize many more aspects of the game.
TrackMania Sunrise eXtreme
An expansion pack for Sunrise, called TrackMania Sunrise eXtreme, was released in November 2005.
Music
Each environment features four songs, most of which have lyrics. This is the first time when the soundtrack in a TrackMania game includes songs with lyrics. The second and only other time this occurs in a TrackMania game is Dancing in the Halls of Love being featured in TrackMania: Build to Race.
Menu
Bay
Coast
Island
Gallery
External Links